With its prime location, Mendoza is only a couple of hours by car away from Aconcagua. Aconcagua is with 6.962m the highest mountain South Americas and what better way to spend Easter than to swing by this gigantic creation of mother nature for a 16km hike?
And so we started our one-day expedition on the 25th of March at precicesly 07:00am without having a proper plan.
The almost 4 hour bus journey to the "laguna de horcones" where we'd start the hike was no short of breath-taking views and ever changing landscapes.
Throughout the day it seemed like we won in the weather lottery. It was super sunny, and a fresh breeze cooled us down on the hilly way up to the first camp of the mountain on approx. 3600m altitude.
Our squad consited of: Mexican, French, German, Brasilian and Argentinian citizens, which summed up to a total of 16 people. Even tho we were a big group for an all-day hike, and despite the fact that our French friends leading the way up set a brisk pace, we managed to stick together for most of the time. #teamspirit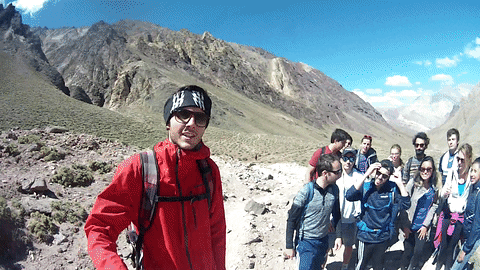 After a roughly 3 hour hike we reached the camp where it was time fo lunch. Some of us haven't spoken of anything else but "comida" (=food) since an hour after we started the hike. 😉
Invigorated with snacks and drinks we started our hike to "el puente de inca" from where we'd catch the bus back to Mendoza.
A dose of adrenalin rushed through our bodies as we walked over a steal bridge which wasn't in the best condition anymore – it was even missing quite a few parts including a proper handrail. But luckily we all made it to the other side without any major incidents.
One of my personal highlights was to see the sun disappearing behind the mountains which just before that coloured the landscapes in warm orangy, almost pinkish colours. Absolutely stunning!
Punctual at 20:00 – surprisingly – the bus departed back to Mendoza. Not even 10 minutes later we all felt happily asleep after this smooth hike.
This expedition proves once again that spontaneous trips often turn out to be the best ones. Thanks for such an amazing experience guys.
Kris
PS: I'm currently working on a little short movie about the adventure of our multiculti-squad. So stay tuned!